Hello dear blog, I had started playing Minecraft just minutes ago and it should come as to no surprise that I horribly sucked at it. LOL. A mere five minutes into the game and I fell into a hole. Poor pixelly man has no way out now and is doomed for the rest of his unfortunately misguided life; a life misguided by me. Haha. At least with him being in a hole, I'm causing him the least possible harm. Besides, of course, the probable chance of death by starvation. Yes, the least possible harm indeed. LOL. Pixelly man of le 'Awesome Universe', abandon all hope for survival cause I have absolutely no idea how to play this thing. LOL.
Thanks to that, I haven't the mood to continue playing. As I explained to Aaron, "The failure, I'm afraid, has proven to be too overwhelming". LOL.
I'M A HAPPY PENGUIN.
I'm a happy penguin with my happy flippers and my happy beak and my happy everything!
After so long, I finally got to talk to a very special cupcake again tonight. I owe it to Thor big time for urging me to start the conversation. It was the best decision I made all week, to be rather frank. AND NOW, HAPPY PENGUIN IS HAPPY. ♥
The butterflies in my tummy are making such a fuss. :3
Tomorrow, most likely in the late afternoon, I've plans to watch Johnny English with Shishi and Thor. I must say, I'm awfully excited about that. Can't say I'm too excited for my classes though. A boring morning at school is quite assured.
GIF OF THE DAY!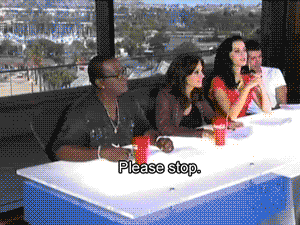 That probably had nothing to do with anything but it was too epic that I just had to post it. Haha. I could imagine my attempts to say this line in real life and miserably failing at it. With an actual cup of coke at hand, I'd probably end up laughing too much, spilling coke on myself instead. HAHA.
Anyhow, I'll be running off along now. I'm sleepy.